OverDrive @ Club 414 - Fri 9th August

Submitted by Noize.co.uk on Sun, 21/07/2013 - 12:13pm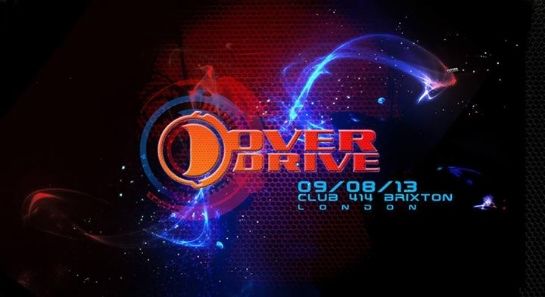 [Description]
▀▀▀▀▀▀▀▀▀▀▀▀ : OverDrive CLUB NIGHT : ▀▀▀▀▀▀▀▀▀▀▀▀▀
And we're back! OverDrive returns with the 4th installment!
You've all kept us busy at the O.D headquarters ensuring we deliver you another night of pure underground electronic music. So here it is! Ladies and gentlemen, we give you OverDrive 4 X 4!!!
We like to keep ahead of the curve, so watch this space for a MASSIVE announcement coming soon!!!
THIS IS AN 18+ EVENT! PLEASE BRING I.D!
DESTINATION : CLUB414
http://club414.org/
▀▀▀▀▀▀▀▀▀▀▀▀▀▀▀▀▀▀▀▀▀▀▀▀▀▀▀▀▀▀▀▀▀▀▀▀▀▀▀▀▀
● ▬▬▬ DJ VLRK ▬▬▬►►►
VLRK (born JD Tucker) is a Dutch/British DJ/Producer, most commonly known for his successful & influential EDM/EBM/Industrial project GRENDEL and extensive list of club hit remixes.
After years of doing guest slots in Germany, Belgium and The Netherlands, he has been a resident at Fate.01 (Arnhem, the Netherlands) and has traveled worldwide, filling floors with his blend of Hard Trance, Hard House, Electro House and Industrial. The most notable of these events have been Das Bunker (Los Angeles, USA), Albion (New York, USA), Stahlparade (Zurich, CH), Slimelight (London, UK), Club Antichrist (London, UK), Cyberia (Utrecht, NL), Club Bl.Ack (Salzburg, AT) and a two week Australian DJ Tour.
You like it dirty? So do we! We're stoked to have him lay down some beats for you at OverDrive!
https://www.facebook.com/grendel.music
http://www.grendel-base.com/
● ▬▬▬ DJ AZRAEL ▬▬▬►►►
Having spent most of the last 10 years behind the DJ decks or on stage, DJ AZRAEL aka Marco Visconti and The Lord has continued to rock the industrial scene the world over.
Just some of the clubs/events that have all been graced with DJ AZRAEL's presence include Resistanz Festival (Sheffield, UK), Club AntiChrist (London, UK), Death Guild (San Francisco, CA), Summer Darkness (Utrecht, NL), Club Underworld (Athens, GR), Subbacultcha (Rome, I), Club [Pi] (Vienna, AT), Vampire Party (Antwerp, BE), La Nuit De Sade (Florence, I), Zoe Club (Milan, I), Slimelight (London, UK), RevolutioN (Sheffield, UK), Ritual (Rome, I), and this is just a small list.
As well as being a member of Italian industrial act XP8 and being a part of FADERHEAD's live shows whenever the opportunity arises, Marco was also a member of Grendel between 2006 and 2009, and has briefly played in Unter Null in 2006. In 2007 toured with VNV Nation on their "Judgement" tour.
A great edition to one powerful night at OverDrive! Bow down to The Lord!
https://www.facebook.com/azrael2393
http://www.xp8.org/
● ▬▬▬ JESTER & KOHL ▬▬▬►►►
Sinistry was started with one purpose; to put on events that showcased the harder and darker styles of dance music that would provide like-minded ravers an atmosphere like no other!
Started in June 2008 by close friends Jester and Kohl, they wanted to create a night where Harder Styles were played from the first set to the last. Events where up-and-coming DJs could play alongside some of the biggest names in the scene and where fans of the Harder Styles could come and experience their favorite music in a friendly atmosphere.
Sinistry duo Jester & Kohl continue to dominate dance floors worldwide and we're amped to have them slam the floor for you at OverDrive! Sinning is guaranteed!
https://www.facebook.com/SINISTRY
http://www.sinistryportal.com/
● ▬▬▬ LOKI ▬▬▬►►►
Loki's career as a DJ began back in 2003 when he entered the final stages of the Frantic DJ comp 2003 in London. Following the comp he went on to play the last ever Frantic Valentines Ball @ the Camden palace (Feb 2004, now known as Koko).
In 2005 Loki relocated to Plymouth, Home to his residency PREMONITION and birth place of his Co-Founded Label Terminal Trax
Now back in London Loki seeks to complete the venture he started over a decade ago. Armed with Techno, Hard Trance/Style he sets out to decimate dance floors with his fusion of styles and furious beats.
There's no escaping Victors powerful set. So get ready to have your aural senses blown away at OverDrive!
https://www.facebook.com/TerminalTrax
http://www.mixcloud.com/victor-loki-mackenney
▀▀▀▀▀▀▀▀▀▀▀▀▀▀▀▀▀▀▀▀▀▀▀▀▀▀▀▀▀▀▀▀▀▀▀▀▀▀▀▀▀
DJ LINE UP ((( d╰_╯b )))
23:00 ● PHIL NOIZE >
12:00 ● SOYLENT >
01:00 ● VLRK >
02:00 ● JESTER & KOHL >
03:00 ● CHEMICAL6 >
04:00 ● AZRAEL >
05:00 ● LOKI >
06:00 ● PSYNAPTIC MISFIT >
▀▀▀▀▀▀▀▀▀▀▀▀▀▀▀▀▀▀▀▀▀▀▀▀▀▀▀▀▀▀▀▀▀▀▀▀▀▀▀▀▀
==========================>
ENTRY : £5 BEFORE MIDNIGHT, £8 AFTER
==========================>
More Info to follow >>>>
♫ JOIN US @
http://www.facebook.com/OverDriveClubNight
http://overdriveclubnight.co.uk/
ADDRESS: Club 414, 414 Coldharbour Lane, Brixton. SW9 8LF
TRANSPORT:
Tube = Brixton (Victoria Line)
Rail = Brixton mainline station
Buses = 2,3,35,37,45,59,109,118,133,159,196,250,322,333,345,355,415,432,P4,P5
Night buses = N2,N3,N35,37,N133,N159,250,689,690