OverDrive @ Club 414 - Fri 8th Feb

Submitted by Noize.co.uk on Mon, 28/01/2013 - 3:51pm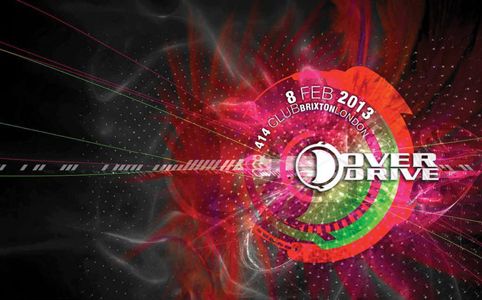 ▀▀▀▀▀▀▀▀▀▀▀▀ : OverDrive CLUB NIGHT : ▀▀▀▀▀▀▀▀▀▀▀▀▀
>>>>>>>>>>>>>>>>>>> ★ PRESENTS ★ <<<<<<<<<<<<<<<<<<<<
▀▀▀▀▀▀▀▀▀▀▀▀▀▀ : LOUK & BUSHO : ▀▀▀▀▀▀▀▀▀▀▀▀▀▀▀
>>>>>>>>>>>>>> [8th Feb @ 414 Club, Brixton] <<<<<<<<<<<<<<<<
That's right folks! Overdrive's back and stronger than ever!
This installment sees the MIGHTY Louk & Busho slammin' out the choons for your aural pleasure! With their perfect blend of infectious powerful music, these guys have got one outstanding set lined up for you! Don't miss out!
====================================
►►► LOUK ►►►
Louk is proving his worth as one of the bright young talents of the scene, having achieved a fair amount of success in a rather short time, and being described as someone who 'plays like a maniac'. A man who hardly ever sleeps, this is demonstrated by his productions, gigs, promotion, reviews, and an all round dedication for the sinister blend of trance and techno that he has become famed for.
No stranger to the studio, he has a multitude of productions and remixes on many leading labels accross Europe with the likes of Druck, Naked Lunch, Detox, German Trance, Drizzly, Tidy, Audio Surgery, Joyride, Nukleuz, Hindsight, Friction, Excessive, Dataless, Trance NRG, Digitally Infected, V-Trax and numerous others all releasing his material. He also runs the successful Compulzion and Benefactor imprints featuring some of the finest and darkest hard trance and techno you can lay your hands upon! With all this in mind you should definitely check him out!
http://www.louk909.co.uk/
http://www.compulzion.co.uk/
http://www.facebook.com/compulzion
http://www.youtube.com/user/compulzion
====================================
►►► BUSHO ►►►
Having his production roots based upon a love for hard trance and hardstyle, Busho is no stranger to the studio. Since his timeless début 'Music Matters' (a collaboration with the also Looe born Joe-E), on Holland's Theracords imprint, it's fair to say that Busho's worked diligently since and has over fifty releases to his name. High profile labels in the Harder scene such as German Trance, Traffic Tunes, Steel Records, Traffic, Tranzlation, Compulzion, Virus Audio, Hindsight and many more have all sought his production and remix skills and his tracks have amassed huge DJ support, with DJs including Mark EG, Proteus, Scot Project, Yoji, A*S*Y*S, Fausto, Louk, Wragg + Log:One and many more all playing his productions on a regular basis!
In the summer of 2010, Busho decided to set up the 'Digitally Infected' imprint and has since amassed a back catalogue that some of the major players of the hard trance world would be proud of, showcasing both a wide collection of up and coming producers and leading names. The first release on the label was the well received 'Music First' by Busho and since then artists such as Sam Punk, Mark EG, Diablik, Proteus, The Engineer, Audio Damage and DJ Husband are a few of the talents to release material on the label.
http://www.busho.co.uk/
http://www.facebook.com/digitallyinfected/
http://www.youtube.com/user/dinfectedrecords
====================================
DJs: ((( d╰_╯b )))
● Soylent [Antiworld/Cyberdog]
======
● GasSmanN [Slimelight/Big Bang/Fuze]
========
● NINth [LD50]
=====
● Psynaptic Misfit [Gravity/Psychometric Vision]
===========
● Sy Soundwave [Shenanigans]
==========
● Phil [Noize.co.uk]
=======
● Chemical6 [Slimelight/Gravity/Projektt]
============================
ENTRY : £6 BEFORE 12 , £8 AFTER.
Exclusive TRACKITDOWN ticket offer!
https://www.trackitdown.net/event/overdrive-presents-louk-and-busho/320....
Facebook event ...
https://www.facebook.com/events/569376169746013/
The guys from broken photo copier will be down aswell,
tripping the light fantastic with a laser show to be awed!
============================
>>> HOPE TO SEE YOU THERE! <<<
============================